A day in the life of the Hurni family lasts about 41 hours on average. With our family spread between New Zealand and America, and messages flying back and forth between, some days can get pretty full. We had a day like that on Sunday.
Starting in New Zealand, Laura and Anne had a wonderful "last day" together on Sunday. We had exchanged a few texts on Saturday night, asking about their plans for the day. They visited "the Mount", one of our favorite towns/beaches, and had walked with the girls while chatting about the trip that was ending and future trips.
Meanwhile, John, Lizi and I were having last conversations with long-lost cousins and siblings as the Hurne reunion (Pennsylvania) wound down. At breakfast Sunday morning I told everyone about Laura's travel itinerary.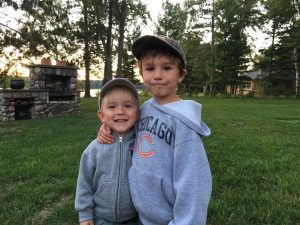 Taylor, Kellen and Oaks packed up the car and started home from Stormy Lake where they spent three days in the Northwoods, fishing, flying airplanes, and having fun.
Just as they started out, Laura called Taylor to tell him that she'd been doubled over in pain for the past few hours. His seven hour trip was punctuated with updates: an urgent care visit, a trip to the Emergency Room, a diagnosis of appendicitis, and eventual surgery.
A small group of Hurnes met at a campground for a praise service and it was there that the text came through letting us know what Laura was experiencing. I left the circle to get my own phone and found earlier texts that I missed. I caught up with the ongoing saga and the Hurnes prayed for Laura and Anne. We went on to visit Aunt Helen and Gramma Timmie, but it was hard to focus on another reunion while our hearts were miles away with our daughters.
Eventually we heard the news that Laura had been taken into surgery and had to wait more hours to hear first that she was "out" (of surgery) and then, late our Sunday night, more details. Sleepy/sedated Laura was able to talk to Taylor in Chicago and send a couple of texts to me. Anne and James juggled two kids through supper and bedtime. James was also juggling busy camp responsibilities. (He is currently running a two week "Journey" camp for high schoolers, a mini adventure Bible school.) 
I was also texting with my friend Marilyn updating her on both Laura and Taylor's saga. (Taylor had been at her cottage at Stormy and Marilyn had also visited New Zealand with me last fall.) She said it was hard to believe this was really happening. I replied: "Hurnis don't do normal."
Eventually, Laura went home to Anne's house where she is recuperating. Taylor arrived back in Chicago to be Mr. Mom for a week, his work having freed him of other responsibilities. We traveled back to western New York and then made a beeline home to Chicago.
We keep reminding ourselves that God knew all the details before these trips were even planned, and while it has taken us by surprise, it hasn't surprised Him. We are grateful that the abdominal pains didn't start later–in the air or while traveling–and that we've been able, as a family, to travel thousands of miles safely. We're pleased with the longer visit for Anne and Laura, though we know Laura is ready to be home with her boys. We are also grateful for our smart phones that kept us all in contact throughout the drama.
Just a long day in our life.
* Did you notice the alternative spelling of our surname? John started out life as a Hurne, even though the original Swiss name ended with an "i." Tired of correcting pronunciation and interested in our roots, we changed out surname back to the original in 1981. Although the rest of our extended family continues to spell the name with an "e", they are split between calling themselves Hurne and Hurn(silent e). Quite a few of them gave up on correcting others and just went with the one syllable name. Approximately 80 Hurne/Hurnis gathered to celebrate the approximate 100th consecutive reunion of this family, descendants of Samuel and Rosina Hurni who left Switzerland in 1880. As they crossed into America, they either anglicized the spelling of their Swiss-German name or a customs officer wrote it down incorrectly.
P.S. It looks like Laura and Olive will be flying home on Saturday, leaving on our Friday. She will get wheelchair assistance at both airports and is hoping for a bassinet row with some empty seats.