I so looked for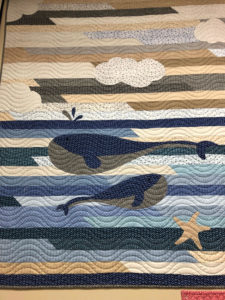 ward to having our Kiwi family in North America for three months. Charlee and I talked on the phone about the "little pool" in my backyard (hot tub) and the "little bed" we found at a garage sale for her. I bought blue paint for the room, a stuffed whale for her bed, and two wallhangings featuring whales. I decided to make a small whale quilt for the bed. We never actually finished painting the room or hanging the pictures. I finished the quilt a few weeks into her visit. (She didn't care in the least.)
We must have had fun because the time just flew by. They are settling back into life at home and I am grieving their absence and all the things we didn't get to do. (I've always been more on the cup's half empty side of things.) It was a busy, crazy time filled with lots of people and activity–and miles. We all traveled to a weeklong wedding event in Ontario to kick off the summer. Then we spent six weeks at home, entertaining guests from Germany, Spokane, and the Ontario bride and groom. Anne and Laura had two-and-a-half years to catch up on and the cousins spent a lot of time together.
The Birkey's and the Bruce's took off the same day–on a road trip to Colorado. They spent four days together in Breckenridge before going their separate ways. Anne and James spent another three weeks visiting friends and the Capernwray centers in Estes Park (Ravencrest) and Winter Park (Timberline). From there they drove up through Wyoming and Montana, stopping to enjoy Glacier National Park on their way to Canada. They stayed with friends in Red Deer (near Calgary) and Camrose (near Edmonton) where we joined them for the last thirteen days of their trip, days filled with–you guessed it–people, activity and more miles.
They hosted ABS reunions, visited friends, camped and rock climbed pretty much up to the very end. At one point, they realized that their whole staff from the past two years was all in western Canada, kind of a bittersweet reality. They probably visited or met up with 100 past ABS students on their Reunion Tour with three major reunion events and several mini-reunions.
And then, it was over. They flew out of Vancouver on August 27th and we started our slow trek home, first visiting Vancouver Island and Olympia National Park. We will wend our way home at a fairly leisurely pace, visiting some of our friends along the way.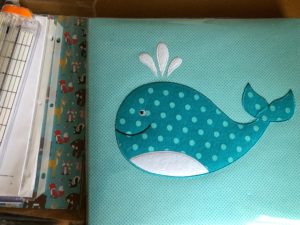 In July I saw a scrapbook with a whale on the cover. I bought it and decided that I would make Charlee a scrapbook of her visits to America. I had a lot of pictures printed and brought it to Canada. We spent a few hours in the car assembling some of the pages, but I have found it healing to work on the project when I feel sad. The first page states "When Charlee comes to visit…we have a whale of a good time!" A few pages remind me of her 2016 visit at eight months of age and our trip to Disney World. The 2019 pages will picture a completely different kind of trip. Lots of cousin time. James, Charlee and Simee's first 4th of July. A trip to the American Girl Doll store for tea. Road tripping and camping; visits with many friends.
Yes, we had a whale of a good time. (So why am I so sad?)