I don't remember having a "blankie" when I was little, but I've found that I really like having one now. Here are a few of the blankies that have helped me through the last year:
In the first months of my cancer treatment, I received two prayer shawls. One was from a friends' church, knitted by an anonymous donor; the other was crocheted by my niece, Kim, with prayer for me crocheted into every stitch. They coordinated so I kept them on my round chair in the sickroom and alternated between the two. I also had an assortment of quilts that I had made and loved and took to each chemo visit. They provided blankets, but I preferred my own.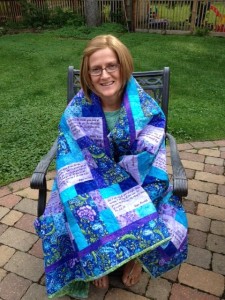 In June, my sister-in-law Joann surprised me with a quilt she had made, gathering verses from friends and family and lovingly piecing together a beautiful quilt–her first. I told the story of the quilt in "Morning Surprise" shortly after receiving it. That quilt made a few trips to chemo as well and comforted me at home on my bad days.
Oddly enough, my own church hadn't given me a prayer shawl even though there is a strong group of regular knitters. But one morning in February, after my mom had died and while I was struggling with the complicated schedule I faced, Allie slipped me a prayer shawl, saying she thought I particularly needed it then. It was an extra-long shawl in a solid blue. (All my prayer shawls were shades of blue.) I could wrap it around me several times, which for that long winter and those tearful days, was perfect. I took it with me to surgery and on the plane to New Zealand. I even took it to the reception. And slept wrapped in it most nights.
My latest blankie is a quilt I made for my mother several years ago. She had treasured it, but rarely used it. It was neatly folded at the foot of her bed, part of her room decor. I'd made matching pillow cases and a mini version for one of her great-granddaughters. It is pink, green and cream with scalloped edges.
I didn't bring it home with me after the funeral or even the first time I cleaned out her closet and brought home some of her things. But I did bring it home after my Mother's Day visit and it has been on the foot of my bed ever since. Most nights, I also pull it up and sleep with it, sometimes wrapping it around my body or shielding my eyes from the light.
My daughter Anne tells me that she doesn't like quilts (what?!) because they aren't soft and pliable. This quilt is–and it is becoming softer as the days (nights) go by. The more a quilt is used and loved, the better it becomes. It may get faded and a little worn, but it just gets better and better.
I love wrapping myself in my blankies–and I love when they are homemade, beautiful and meaningful.
So now you know my secret.