Anne and I were in McDonald's grabbing a hot chocolate before our last errand on that last day. It was the week before Valentine's Day so the place was decorated with pink and red hearts.
They were all lopsided and I couldn't help but making the connection! I took a picture to illustrate and then another one to make the relationship more clear. Yep, fits perfectly.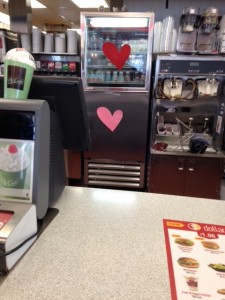 (I have to insert a funny memory that probably prompted me connecting the dots this way. Years ago, when Laura was 2 or 3 years old, we celebrated her birthday with everything pink. Pink lemonade, pink ice cream, and even pink mashed potatoes! There were also pink and white heart-shaped balloons which I hung from the chandelier in the dining room. Sometime after the party, we were eating another meal at the table and Uncle Dunc looked up at the balloons that were losing their air and shape. He commented on their similarity to the female anatomy, sort of sagging. We could barely stop laughing through the rest of the meal!)
This week I take the next step in correcting some of the disproportion of my anatomy. The implant is supposed to be a bit softer and slightly "lower" on my chest. They still won't match, but they'll be closer. Later this spring, we'll add the other kind of "levity" to the left side.
Surgery–removing the expander and inserting an implant–is tomorrow at 10 a.m. Please pray for a smooth recovery and NO complications. (I don't have time for any additional problems.) I'll do my part by religiously obeying my post-op instructions.
In the meantime, I'm enjoying the sick humor of all of this. Gotta take what you can get.