When we left Petersburg, we considered changing our tickets and going straight home-to deal with a crisis at home. We decided against it when we looked at the cost and were advised against coming home to "rescue." We carried on.
We spent a rainy day in Juneau. We decided to rent a car, which allowed us to drive out to the Mendenhall glacier, shop, and stay relatively dry. That evening we boarded a flight to Anchorage, where we rented another car, drove to the mission guest house, and tucked ourselves in bed.
The next morning I had breakfast with my friend, Sharlane before she went to work. The weather didn't look good for the trip towards Denali that I had planned, but we decided to go for it anyways. We packed for a possible overnight and headed north.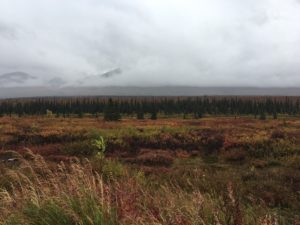 Six hours later, we arrived at Denali National Park and gleefully stamped our retirement Passport book. On the way, we stopped and took just a couple pictures of the great mountain. We could see most of the massive mountain, but the top was obscured by clouds. It's hard to see but it is there in the center of the photo.
In 2010, during an 8 hour layover in Anchorage, Anne, a friend, and I had made a spontaneous trip towards Denali. We stopped more than 100 miles from the mountain but were still awed by its majesty. I wanted John to have that experience.
He (and I) had a completely different experience of Denali.
It turns out that one of the best places to see the mountain is from a distance. For one thing, the road that leads into Denali National Park is located on the east side of the mountain range that runs almost straight east and west. To cut down on the impact on the environment, travel within the park is limited a to a bus system that we didn't have time to access. (The shortest tour was 4.5 hours; the full tour was 11 hours.) Cars were only allowed to the visitors center, the campgrounds, and a fifteen-mile stretch of road.
We took an evening and morning trip up the park road and a two-mile hike at Savage Creek, in wind and rain. Autumn was in full bloom in the park, with red brush, yellow aspens and green pines. Stunning. Our pictures can't possibly do justice to the beauty we experienced. We really enjoyed the vast and beautiful landscape.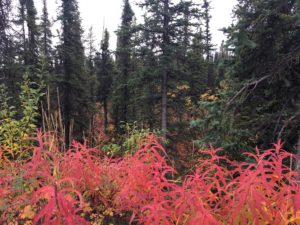 It was a fitting finale for our Alaska adventure.
*One of the things I love about Alaska is that there are three highways: 1, 2, 3, forming a triangle between Anchorage, Fairbanks, and Tok, which is just east of Glennallen, our first home when we lived in Alaska. We have transversed Hwy 1 between Tok and Anchorage several times; part of Hwy 2 to the Sourdough Lodge; and now we've been more than halfway up Hwy 3 towards Fairbanks. My goal is to make the whole loop next time we come.