We are continuing to settle into our new home–and getting ourselves organized.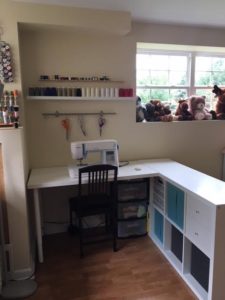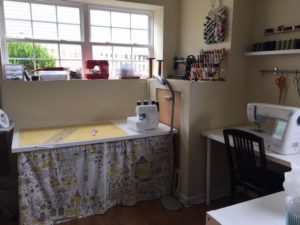 I started with my sewing area in the basement. I bought an Ikea Kallax 8-bin unit to define my space and set up a boundary with the kids' play area. Bins organized toys and fabric and an attached table made a nice home for my new sewing machine. I returned to Ikea for another table for my serger and a cutting board, and an even bigger–16 bin–unit to store my fabric. A re-covered design board, a new ironing board cover, and a table skirt to hide more bins of stuff, completed my sewing room by mid-July.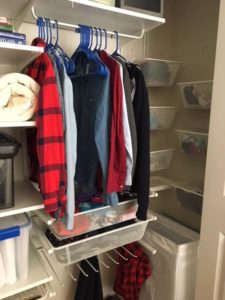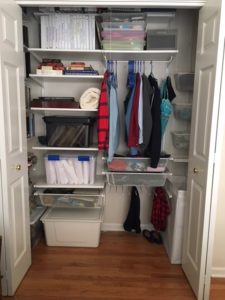 With Lizi moving back home, I organized the closet in her room to compactly hold–and organiez–her clothes and my (non-sewing) hobbies.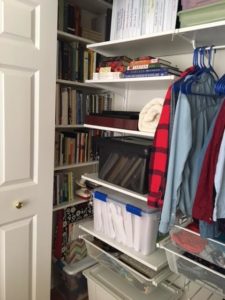 I needed to cram a lot of books and files into a small space. Back to Ikea (several times) to pick up pieces of the Algot system and figure out how to use the space well. I finished our new, organized closet by the end of August.
Last, but certainly not least, we were able to get our garage organized by the end of September. Another Kallax system and more bins, a massive workbench and pegboard, and numerous shelves. Our bikes are stored up high on pulleys for easy access and sports bins hold the balls, discs, and skates. A rail system holds gardening tools, etc. Plus we either stored (garage attic) or threw out the rest of our junk.
Best of all, we are able to park two cars in the garage for the first time since we left our Bellwood home in 1980! We are so excited to be able to pull in and out of the garage,
away from the elements. And yes, I have ball hanging from a rope to guide me into my space 🙂
One more thing: My threads for weaving are finally "organized" after what seems like months of stops and starts. Before we left Elmhurst I laid out 400+ threads on the warping board and tied them neatly. In August, I managed to get all the threads onto the loom, but didn't finish dressing it until this week. For me, that means going over and over it to get it right: the pattern, the threading of the heddles, the sleying of the reed and then, the tension. I love how it looks when it is all done, though I have to say the process of getting to this point is more than tedious. Now I'm ready for the fun of weaving 🙂
Really, sew organized!