We celebrated Christmas today. We had cinnamon rolls with fresh eggs; read the Christmas story from Luke 2;  enjoyed watching Charlee open her presents and played the new game that was James' gift, King of Tokyo. James and Anne gardened and clipped the chickens' wings. We went swimming.
And then we had a lovely dinner of roasted chicken, roasted vegetables and pavlova–outdoors.
Its been overcast and rainy since we arrived but we haven't minded. We needed time to get over jet lag and enjoy little Charlee.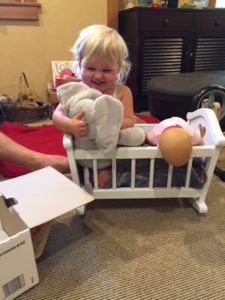 She is a busy little girl with a beautiful one-dimple smile, white-blond curls, and a solid, strong body. She inherited agility from both James and Anne: climbs confidently, wanders freely, and handles the animals with ease.
Her Christmas presents were a bike, a baby doll (w/cradle, quilt and baby paraphernalia), a stuffed singing elephant, and a coffee-maker wooden toy. The bike was from her parents and later that day, James made a ramp for her! John made the cradle and I made the quilt. She is a busy little mama, caring for the baby. Good practice for the real baby coming in June.
Anne and James are now away on a two-day vacation, the first time they've both been away from Charlee overnight. The three of us are managing to keep up with one busy little girl.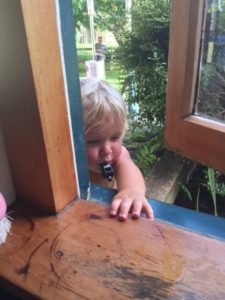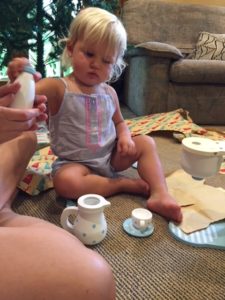 Merry Christmas! (It's finally over :-)!