While on a bike ride last fall, I found a house that really appealed to me. A couple weeks later it had a For Sale sign out front. It was way out of our range, but in the first month the price dropped by $150K. Still pricey, but I went to look anyway. Ranch style on a hill so a full finished basement that could easily be a home for another family; two full kitchens, laundry rooms, living rooms and three bedrooms on each floor. It was on 4 acres of land, bordering a pond. It had an outbuilding that I envisioned as a separate apartment for Johnny. And, it had a pool! It was also on a small side street just off my favorite country road for biking.

We didn't buy it, of course, but what surprised me most was that I was dreaming again.

I also decided that I wanted to get a part-time job. After thinking about all the possibilities, I realized the only thing I really wanted to do was work in a quilt shop. I made up a "quilting" resume and visited a couple shops in the area. One of them was planning to move to a bigger store and would likely be hiring in the spring. I started working there three weeks ago. A dream job 🙂

I asked to work 3 days a week for the first couple of weeks so I could learn more quickly. I agreed to three-in-a-row, which was a bit ambitious for my feet and energy level, but I enjoyed the process and am now working two days a week, Tuesdays and Thursdays.

Quilters Quest (at 75th & Lemont in Downers Grove) is a bright, roomy store with a lot of beautiful fabric and a bustling longarm service. We also sell and service Bernina and Janome sewing machines and sergers and offer many classes. Come in and visit!

Getting paid to play with fabric is pretty cool. I love straightening the shelves, cutting fabric, and helping other quilters find just the right color or hue. It's especially fun to unwrap new collections. I also love seeing the finished quilt tops that are brought it for long-arming. Some of them are simply amazing.

* One fun fact: When I first came in to ask about a job, one of my former colleagues at Elmhurst Medical Associates bopped up to me in a staff t-shirt. About a year ago, she did the same thing I was doing, randomly asking about hiring. I think it's hilarious that a former nurse and pharmacist are now working together in a quilt shop! Connie, who is still working at EMA, calls it our fun job. It was even funnier when one of our former patients came in looking for fabric.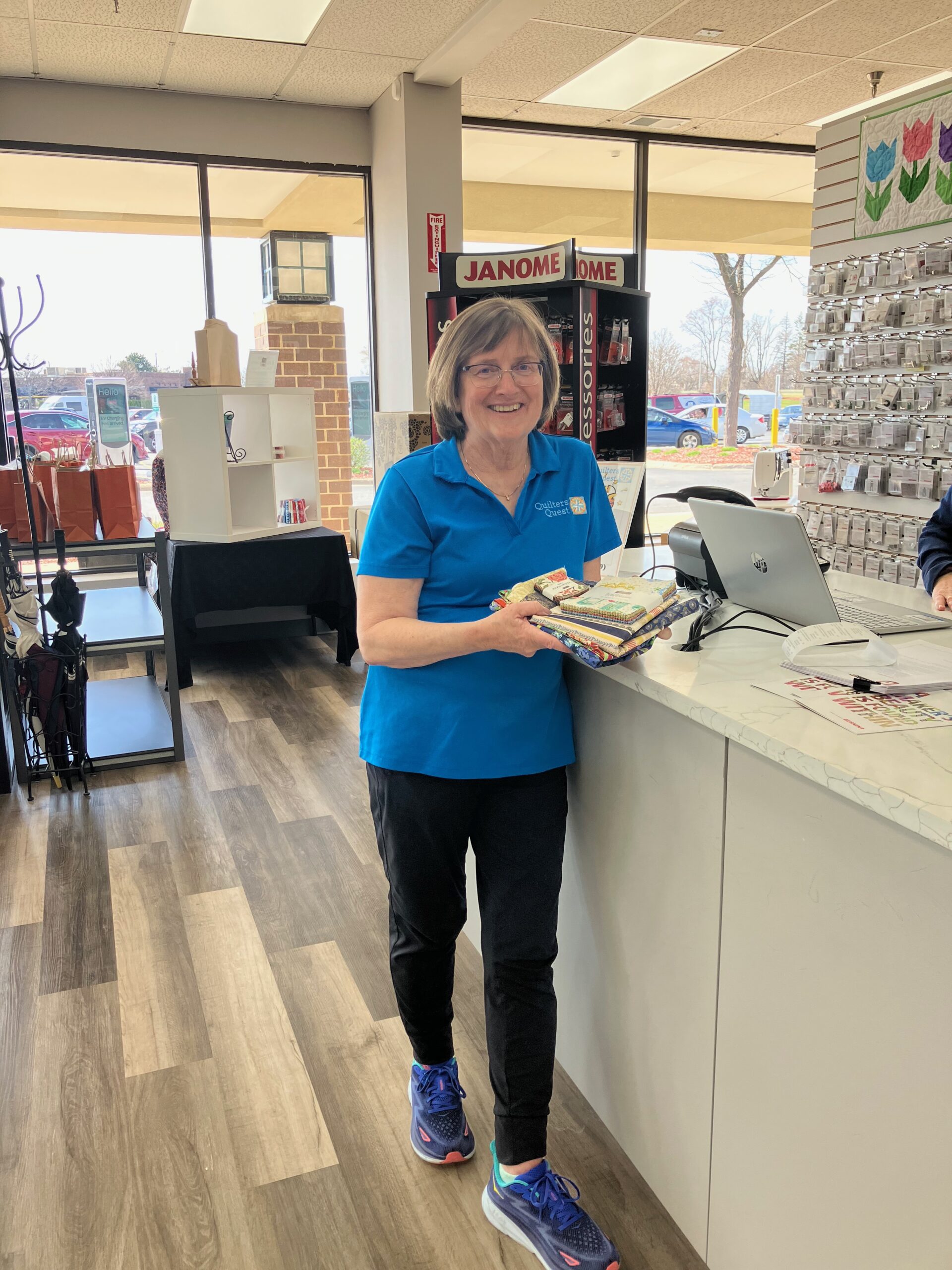 Sometimes I end up on the "wrong" side of the register 🙂