"March Madness" seems like an apt description of the past month, even though the craziness had nothing to do with basketball.
Our house went up for sale on March 1st and nine days later, we had a buyer. This was followed by the inspection and a flurry of emails from our lawyer. We hired contractors to install a radon mitigation system, seal cracks in the foundation, and sweep our chimney. When all that was done, John had to replace the panels he had removed and patch the drywall (yet, again.)
In the midst of this, our washing machine broke down and we had to have our lawyer ask their lawyer to ask them if it was okay for us to buy a new machine.
Our last hoop to jump through was an appraisal/FHA inspection. We haven't received the official report yet, but our realtor told us that the appraisal was good, so it looks like the deal will go through.
We also started house hunting. We looked at rentals for a week or so. There wasn't much available, so we decided that we needed to look at purchasing after all.  We have been spending our time pouring over Zillow and visiting houses with a realtor.
It's actually been kind of funny: We'll walk in a house and the realtor will start pointing out the "dated" features, all of which look quite modern to me. My 90-year old bungalow (which I do love) has prepared me to be very accepting of flaws in another house. I'm ready to be done with old-old and finding these 30-year old houses just fine.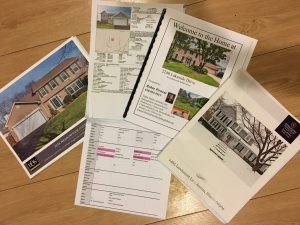 We are planning to go see the Final Four tomorrow–and possibly make a decision. Any of them would be fine so I've drawn up an Excel Spreadsheet to list their different features, costs, etc. so we can compare them somewhat rationally. We have a lot of variables to consider and this seems the best way to do it.
Two are in Laura and Taylor's neighborhood and two are in an older area less than two miles away.   One of them backs up to the park where the kids play and another is near the high school. (The realtor told us that we might not be interested in it because it was near the baseball field–too loud. I wanted to send her a picture of our back yard and the baseball field just beyond our fence.) They all have fireplaces, family rooms, basements, 3-4 bedrooms and a good spot for my hot tub 🙂
March Madness.