The last part of my takeoff plan was to change into a pair of ankle boots for the flight. I'd put them in the car with my suitcases, etc. Only I didn't: I dropped one of them on the porch as I was carrying things out the door.
Which meant I arrived in the middle of New Zealand winter with a pair of sandals and some cheap slip on shoes that were neither warm or comfortable. Last February I bought gum boots (formerly known as Petersburg sneakers) for a caving trip so these have been my winter attire on a daily basis.
Here I am starting out on one of my favorite activities: taking Simee for a walk in the buggy. Charlee and I also venture out frequently, for a walk down the driveway and sometimes on the road.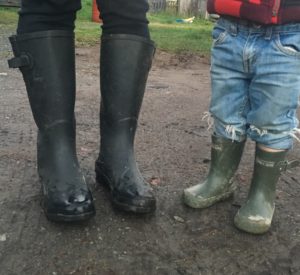 Charlee also has an issue with shoes and wears gum boots most of the time as well.
One day we wore our gumboots to help James clip the chickens' wings. He spent the last few days enlarging the chicken coop and run to keep the chickens and the dog separated, as Obi has killed six of their chickens in the last few months and scared the rest so that they are no longer laying.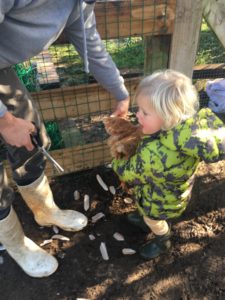 Yesterday we bought five new chickens and separated them from the remaining eight. Within hours the "old" chickens had all flown out of the coop, which is why we needed to clip their wings this morning. Charlee and Gramma held the chickens while James clipped and then we changed roles and I clipped some as well. We clipped the new chicken's wings as well, so they start off not being able to fly.
The next day, we put on our gumboots to help herd the sheep into a new paddock. Merida and Maudie needed new grass, so we put up a new fence and then chased them through the gate (after several tries.) I'm still hoping Merida delivers her lamb before I leave.
Today, we wore our gumboots for a hike to the goat farm at the end of the road. We saw goats getting milked, billy goats, pens of baby goats ("the keepers") and even watched one kid being born. What a smell–and what an experience.
Gumboot Gramma will be headed home on Thursday, leaving my gumboots behind. I will miss all these adventures (and my family here) but I will be happy to exhange them for a pair of sandals and six more weeks of summer.