On the evening before Oaks arrived, we were taking Kellen to his Grandma Debbie's house to spend the night. He asked for music so John started playing a CD. It was the Hallelujah Chorus by Mannheim Steamroller. As soon as it ended, Kellen asked Papa John to play in again. After about four repeats, he commented that it was "a beautiful song" and that he planned to play the drums for this song when he was bigger.
Since then, every time we've been in Papa John's car, Kellen requests "The Hallelujah Chorus" and asks us to turn it up loud and repeat it over and over and over again. If we stop for an errand, as soon as we get back in the car, he requests it again. I have listened to the Hallelujah Chorus for many of the past ten days, with multiple repeats.
So while I waited for a call from the doctor today (and while I was replaying it for Kellen once again) I thought it might make a good title for my next post if the news was good. And then I thought, I should be able to sing "Hallelujah" even if the news wasn't good.
Well, the news WAS good. And my friend Marilyn's texted response was perfect: "Hallelujah (chorus)!!!" I can hear the music now and see my Dad "conducting" 🙂
And I'm relieved by the news (received as a quick response to an email I finally sent to my oncologist late this afternoon.) I assumed that the chemo took care of whatever small aberrations the radiologist had noted a year ago in February, but there were no guarantees. I wasn't worried, but I am relieved.
Now I can go to New Zealand with a mind free of concerns about my health. In fact, I'm going to take the whole summer off from any treatment (except my daily Tamoxifen) and leave the rest of the reconstructive surgery until later this fall. I decided I didn't want to give up any pool time during the summer and my doctor agreed. I've healed well from the implant surgery and feel ready to travel.
We leave 2 weeks from today, leaving here on Friday (28) and arriving at 8 a.m. on Sunday, the 30th. At 2 p.m. that afternoon, Lizi and I will get to go to a shower for Anne and then we'll spend the week with busy wedding preparations. Anne & James have done a good job pulling together the details for the wedding; delegating, borrowing, and coordinating. An outdoor wedding is planned on Saturday, April 5, at 2 p.m. at a farm near the ABS Lodge, followed by a "light tea". A few hours later, the reception will be held at the Lodge, under two borrowed tents, with a catered meal and homemade frijola pies (made by Anne and her assistants, which includes me.)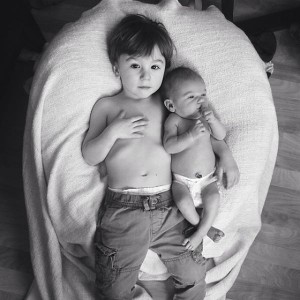 The Hallelujah Boy (Kellen) is adapting well to his new baby brother. He likes to hold him but his attention span is pretty short. Oaks is growing and doing well. He seems to be a pretty contented baby. Laura and Taylor are doing fine even with some sleep deprivation. I am enjoying extra time with both Kellen and baby Oaks.
Life is good. Hallelujah!