Olaf's song, "In Summer" keeps going through my head, especially that last belted-out line.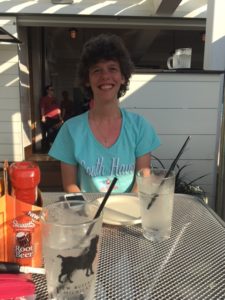 Lizi and I enjoyed a taste of summer for a few days at Balgownie, the Bendelow's cottage in South Haven. It was hot and sunny most of the time we were there, perfect for a few beach days to start off the summer.
Returning home last night was a little weird: I drove home via I-80 and then up Rt 30, through farmland and fields for the last few miles, then came into our subdivision from the south, avoiding the busy roads that I'm used to transversing. When I got home and unpacked, I had an odd feeling of surprise that this was actually my home.
It feels a bit like a summer home with the light, bright basement, the deck(s), the lush grass, and the big blue skies. No pool, no lake, but still summer-y.
In a week, we'll have a small body of water on our property: We bought a new hot tub and it should be installed this weekend. John has been busy planning a second level deck and building the base for the hot tub. He also is installing the electric wiring from the house to a circuit box and then to the tub. In the next few weeks, he will put in a fence and later this summer, build the deck around the hot tub. He has good helpers.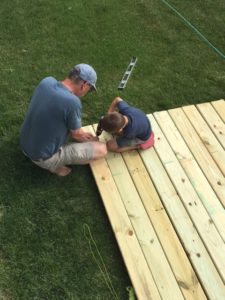 In the meantime, we've enjoyed eating and entertaining on our deck. When we first bought the house, John thought the deck was too big. He planned to cut it down by about a third, knowing he would be adding a second deck for the hot tub. But as we have lived with it, we find it is not too big at all! Tables, chairs and people fill it up just fine.
My gardening plan for this year was limited to the area just outside our front door. It looked like the previous owner had simply put mulch down, never developing the soil or planting much but bushes across the front of the house. I was dismayed when I started to dig (thick clay) and disappointed when we paid to have it rototilled with added compost. It will be a work in progress for a few years.
I planned to wait until next year to add a garden for vegetables and herbs. However, my new neighbor to the north has four terraced raised beds on the south side of his house, facing my kitchen window. I asked him if he was planning to garden and he said he didn't know much about gardening. I asked/offered to work on it for/with him. I dug out weeds today, will add compost tomorrow and hopefully have it planted by the weekend. I brought several plants with me in pots that need to be transplanted. It felt good to be digging in relatively good soil today–a definite sign of summer.
Next weekend we get to host a summer birthday party for Olive, our only summer grand child (and her Birkey cousin, Eva.) Laura's friend owns a blow up water slide. Laura took one look at our backyard and wondered if we wanted to host the party 🙂
I have a feeling summer will fly by while we continue to settle into our new house. That's okay because we are planning on a second summer in December/January and possibly February: New Zealand! Meanwhile, we plan to enjoy our new house…in summer!