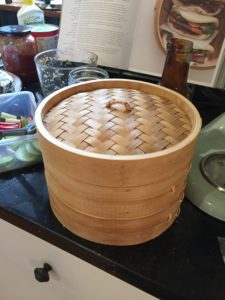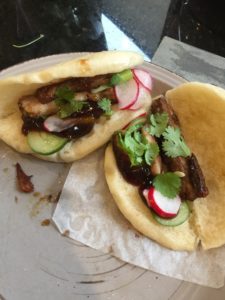 Today was our last full day at Cherry Lane Cottage–and it was a full day. I made cinnamon rolls for morning tea and Anne made bao buns with twice cooked pork for dinner. They were amazing. She's quite a good cook.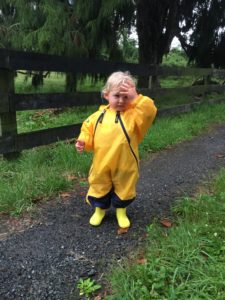 Charlee and I took a fun walk in the rain, in the cutest little rain suit you've ever seen. Anne first saw these in Petersburg in 2010. When I was there this summer, I looked for them and then searched the Internet, finding them on Amazon (of course. If you really want to see how they work, check out this video of Oaks and Olive demonstrating (make sure you make it at least halfway through the video. It is worth it.)
Lizi fed the chickens for the last time. She has really enjoyed the animals here–chickens, cats, cows, sheep and the dog–but I think she might like the chickens the best, especially the four little chicks. 
Grampa spent the day finishing a big girl bed for Charlee. She was quite the helper throughout the day and with the final production. She will sleep in it tonight.
Tomorrow morning James leaves early for a whitewater kayaking trip and we are going to a bach (not a typo) about an hour southwest of Auckland. Annie's friend Emily is flying in from Canada tomorrow evening. We'll spend the next two days playing at the beach and then they will drop us off at the airport on Thursday afternoon. I thought that might make our parting a little easier.