Confession: I bought a loom while I was in New Zealand. It might be proof that I am certifiably a little crazy. Loomy.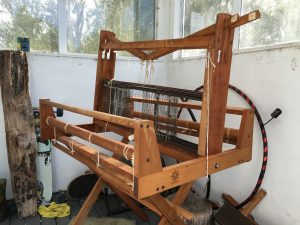 About mid-point through my stay in New Zealand, I looked up looms on Trade Me (their Craigslist.) There was a kilt-width table loom w/stand up for bidding about an hour drive from home. I didn't bid, but sent messages to the owner asking about the loom, make and model–and could I see it?
No one ever bid on it, so I took a drive one afternoon and bought it on the spot for $60NZ ($42.76 US.) We dismantled the major parts and put in in the trunk. I brought it back home but left it (hiding) in the trunk until the next day.
I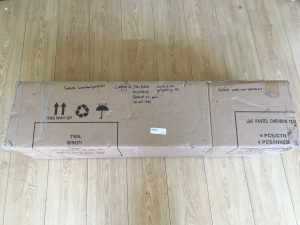 t had been in storage for at least five years and was pretty dirty, so I spent the next afternoon cleaning it as best I could. I put it together and left it on the front porch, eventually moving it inside before we left for the weekend.
I searched the Internet and found directions for assembling it and replacement parts. I dismantled the whole thing, carefully labeling parts and screws, and John packaged the whole thing in box that could be taken home as baggage.
I set it aside once I got home to tackle the tasks of settling back in at home and waging war in my gardens, but once I finished those, I unpacked it and began the tedious process of putting it back together. Eventually I made a trip to The Fold, a weaving, spinning, and knitting shop that I'd visited years ago. I bought a new reed, a shuttle, some yarn and a few other small things (more than my initial investment, of course.)
But once home I realized that I hadn't bought the right size Texsolv heddles, so I called my new weaving friend and visited her. She didn't have the right size either, but gave me 500 Texsolv heddles that could be tied–one by one–to fit my loom. I spent a few days figuring out how to I could make these fit my loom, eventually using a board and finish nails for my project. While in Detroit, Angelo–an inventor–improved upon my design.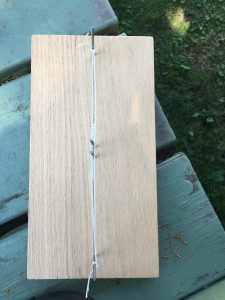 A car ride and a couple of sick days gave me time to tie all the knots and put 400 heddles in place, 100 on each of four shafts. By the time I got to the last 100 ties, I was getting pretty organized and efficient. (Picture below, left.) Maybe a little over-the-top? Hey, I saved about $100 by using these freebies.
This is what the heddles look like in place. If you notice an "eye" in the center, that is where I thread the warp threads. When the shafts are raised or lowered sheds are formed for the weft to pass through.
My first project is going to be a series of rag rugs, actually placemat sized. All I have to do is string up yards and yards of rug warp yarn and then use cut cloth, recycled, for the weft. Somewhere I have a bag of old jeans that I saved years ago for this project. If that can't be found, I'm sure there is plenty in my stash.
Yep, a little loomy.
Here is the re-assembled loom, ready for its first project.