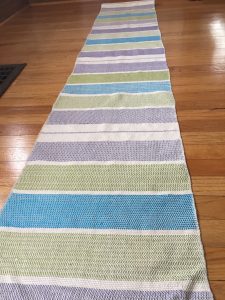 Earlier this week I took six yards of towels off of my loom. I spent the rest of the week with a needle, weaving what felt like a million loose ends into the weft.
Yesterday I used my serger (yeah!) to cut the towels apart and finish the edges. Today, I will hem them with my regular sewing machine.
We have also been tying up a lot of loose ends at home, in the final stages of getting the house ready for market. Picture day is Tuesday. Next Sunday, we leave town for 8-10 days while our realtor puts it on the market. Open House is planned for March 5th.
This. Is. Really. Happening.
We bought our last house from friends and sold it to friends, so we've never been through this process. We're a little nervous.
We hope it sells quickly so we don't have to live on edge for very long. Maintaining a show-ready house seems like a daunting task to us.
We also are anxious to figure out the next step in our life. We know we want to rent and we want to be closer to our grandkids in Aurora. We'd also like more freedom to spend time with our Kiwi granddaughter. We have a lot of variables to fit into the equation, so for now we are simply taking the next step, which is to get the house on the market.
Lots of loose ends.