Taylor is my go-to guy for anything related to my I-Phone, my MacBook Air, and my blog. What a guy!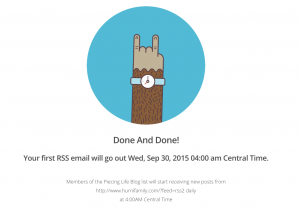 Today he set up a new subscriber service and imported all of your email addresses so that you will start receiving notifications, ah, tomorrow morning. If you don't want to receive these, you will have to go to my blog and figure out how to unsubscribe. (I'm not going to help you. But I won't be offended either. Heck, I probably will never know.)
So maybe we're back on track.
Thanks Tay.
P.S Just to show you how great this guy is, he underwent two hours of "number 10 pain" to have his family etched close to his heart. I'm not a fan of tattoos, but this one is pretty cool. The laurel represents Laura; the spear is slender Kellen; Oaks is represented by the acorns; and Olive Arrow is, of course the arrow. The birds represent the 3 children they've lost due to miscarriages, the twins flying away and the bird perched. Taylor chose the design components and his tattoo artist put them all together.