Last week I participated in the funeral of an old friend. Shirley Bendelow was 96 (and halfway to 97) when she died last Sunday afternoon. I had known her for less than half of that life; had been face-to-face friends for maybe a quarter of that time. 
I suppose the friendship really began when she invited a group of young women to her cottage in South Haven for a fall weekend and apple picking. Before that I knew Shirley as a part of my church family, an older woman always sitting on the left side with her husband and son, a motherly sort of person who was friendly, hospitable, and busy about the church. After I married, left for Alaska, returned, and began having children, we shared more in the life of the church, crossing paths and occasionally having long phone conversations discussing the hot topics of our day: women's roles, head coverings, and church life. Shirley's husband died (relatively) young and she carried on for thirty some years with Craig, her son with special needs at her side in a congregation that splintered and split, and eventually dwindled in size.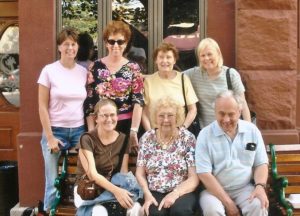 Every autumn Shirley invited a group of women to the cottage in Michigan. We drove up on Friday night, stopping at Bill Knapps at Exit 28 for supper, arriving at the cottage after dark. The cottage could comfortably sleep ten or twelve if it was warm enough for some to sleep on the porch. We stayed up late talking and munching and Shirley was right in the middle of all the conversation. In the morning we had breakfast and usually headed for Fennville where we picked apples and had lunch at Crane's. We spent our afternoon either in South Haven or at the beach. After sunset (an event in Southwest Michigan) we ate again, built a fire, and talked until we gradually drifted off to bed.
The group of ladies that trekked to Balgownie changed every year, but I always in the mix. (John once accused me of having a "cottage addiction.") Eventually I started recovering furniture and replacing curtains. One year Marilyn and I made a quilt for the cottage out of Shirley's old handkerchief's. We rented the cottage for a week for two summers and I sometimes went for weekends in the early summer or after Labor Day.
Eventually the ladies' group dwindled down to just three or four and then, Shirley was no longer able to navigate the steep stairs or even get to the beach. Her nephew and nieces took over the care of the cottage as well as renting it for several weeks every summer. I sometimes closed the cottage in the fall and I still occasionally do a sewing project.
Shirley and I continued to visit or talk on the phone even though so much of the context of our friendship changed. We no longer went to the same church, but we continued to share our lives. She fell many times and broke her hip, her leg and once her neck, but each time she recovered and carried on. I lived my busy life but made time to check in on her. She was always up for a visit and never made me feel like I'd neglected her in any way. She knew my family stories and prayed me through life's many challenges. 
One by one, her friends and cohorts died and even Craig succumbed to cancer. Her life became confined to her home and then, just a small part of her home when we put a bed in the sunroom and turned her dining room into a sitting space. Caretakers lived with her for a few years before her daughter Nancy took over her full time care last year. And then finally, she spent the last few months confined to a bed, which really didn't suit her. She became confused at times, but continued to recognize me and remember my family. In January I talked to her about all her old friends waiting for her in heaven and she snapped, "maybe they are waiting for YOU!"
When we gathered for her funeral, Woodside was full of old friends and acquaintances. We were a mixed group of family and old friends from times past, a mix of ages and certainly a mix of experiences.  For some of us, it may be the last time we are at Woodside Bible Chapel, a place that was "home" for so many years. We also couldn't help but noticing that there wouldn't be many more funerals for the "old folks"; we are next in line!
***************************************************************************
I have had good reason to appreciate "old friends" in another way these past six weeks. Three of our "old friends" have taken Johnny in during this time of transition, helping bridge the gap between our home and independence. Although a lot of people have cared for us through this time, I can't imagine anyone but really good, longtime friends, that would take on this kind of helping, people who have shared our family story for so many years. For Johnny, these are "aunts" and "uncles" who have been in his life since the beginning, people who not only offer a place but comfort in an uncomfortable time.
I am feeling particularly blessed by old friends.