I really didn't want to come. I'd signed up, paid my fees, and bought a plane ticket. Just ten days before John had decided that he would like to join me on the trip to Colorado and there was an extra room because someone else had to cancel. When John2 had another manic episode, I really wondered if one or both of us could/should go. I worked Monday, Tuesday and Wednesday and still didn't feel like taking a trip, but decided to just follow through regardless of feelings.
Our West Sub class of 44 graduates (1976) had voted to have this reunion in Colorado for a change. Only 13 ladies made the trip, less than 1/3 of our class. Illness, grandbabies, and other travel prevented many from making the trip, as well as some whose memories of nursing school aren't all that fond.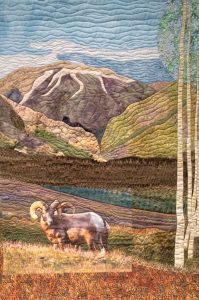 But the weekend has been sweet. We've laughed and talked through three meals a day and evening sessions focused on the past, present and future. We've driven together to town, and along the Trail Ridge Drive. We took a short walk around Bear Lake and huffed and puffed up trails in (literally) thin air. We even stopped to see a small display of National Park Centennial quilts.
This morning, we sang a lot of old hymns and songs from the 70s, our older voices stretching to hit the high notes (plus John's bass.) We prayed and shared and had Cheryl Fornelli tell us a story* from John 11.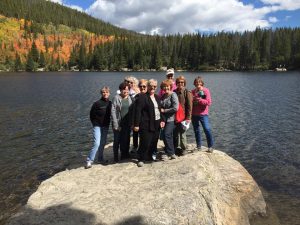 I came reluctantly. I leave blessed. So here's the lesson: Grab whatever opportunities you have to reconnect with classmates, extended family, and friends. It's a little taste of heaven.
*Cheryl uses a method called Orality, which uses oral storytelling to teach the biblical narrative. She and her husband, John, have been using this as an evangelistic tool in many cultures. Follow the links to learn more.