Way back in the late 1970s, John made a three-section bookshelf for our house in Bellwood. It was made out of plywood and constructed a bit like a jigsaw puzzle so that it could be taken apart and re-assembled throughout our moves. I can't even remember all the places it has been, though I do know that in Maywood (early 80s) we cut it apart into two separate bookshelves, painted it (red) and had one on either side of the doorway to our sunroom. One was used for school supplies.
I just painted it for the very last time. Only one section made it to Elmhurst and it has been in our back room for more than 25 years. At some point, I painted the room a cream color and attached to a filled-in doorway. It has held school supplies, cookbooks, quilt fabric, gardening tools, dog stuff, and baby supplies.
I'd say that shelf has been adequately recycled and repurposed. It is NOT going to the next house. We got our money's worth.
My summer "off" seems to have been repurposed as well.
Originally I decided to take the summer off to 1) enjoy the pool; and 2) get the house ready to put on the market. The summer is half over and my "best laid plans" have been slow going. Lots of rain and cool temperatures have thwarted my plans to float around the pool for hours on end and not much is getting done on the house.
I finally painted one room (and while I did that, John painted the upstairs stairwell and hallway.) And we made arrangements for someone to come in and do a tiling job in one bathroom and a new floor in another while we are on vacation. We're still waiting for estimates on some of our front yard work. (We think we need to replace our front steps and concrete sidewalk and replace our lawn (er, weed patch.)
Anne and James arrive later today (Woohoo!) so I don't think much more will get accomplished during the next month. We're headed to a family week at Stormy Lake on Friday and then, on to another cottage in Canada, July 31-7. They also plan to fit in a trip to Nashville that last week.
It's been wonderful to hold sweet Olive and play with the boys during the past month. (Olive is 4 weeks old today. She's doing well and changing a little bit every time I see her.)
So, if my summer has been repurposed, I'm not complaining. Visitors from the other side of the world (especially if they are your kids) and newborn babies are much more important than the endless tasks that aren't going anywhere. They are a lot more fun too.
More pictures of little Olive and the boys. The group shot is their first venture to church.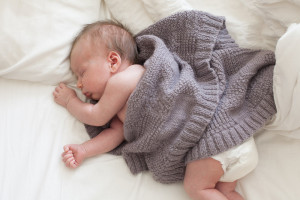 Last fall I re-did my pantry to prepare for a diet change. I bought the paint—antique stucco and jonquil yellow–and only completed the pantry. Here is my neat pantry and my repurposed shelf:
P.S. I also packed my first box for moving: books that I want to read again, but know I won't read this year. And two boxes marked "garage sale" for before we move.