It has been a long time since I wrote anything here, but nothing seemed noteworthy. I was sick for several weeks in the fall (a nasty cold that went around.) I spent November writing 50,000 words about my half of our family tree*. I got through the holidays. Big deal.
Laura and her siblings gave both John and I a subscription to Storyworth. Each Monday we receive an email that asks us to write, answering a question they've chosen, or choosing one of our own. We can write as little or as much as we want and add pictures. This gets emailed to them and at the end of the year, they'll turn it into some kind of a book. Two books, I presume, one for John and one for me.
I can't tell you how much I love this gift and how excited I am on Monday mornings!
* I am also a little excited about my November writing project. I was a little unprepared for my usual writing so I decided to write about my ancestors who have finally found a place–physically–on my family tree.
When Johnny moved out last spring, we cleaned and painted our new guest room. I decorated with my tartan quilts, genealogy notebooks, and a big family tree placed in the corner so that my side of the family could branch out on one wall and John's could branch the other way. It's still a work in progress, but I am working on it.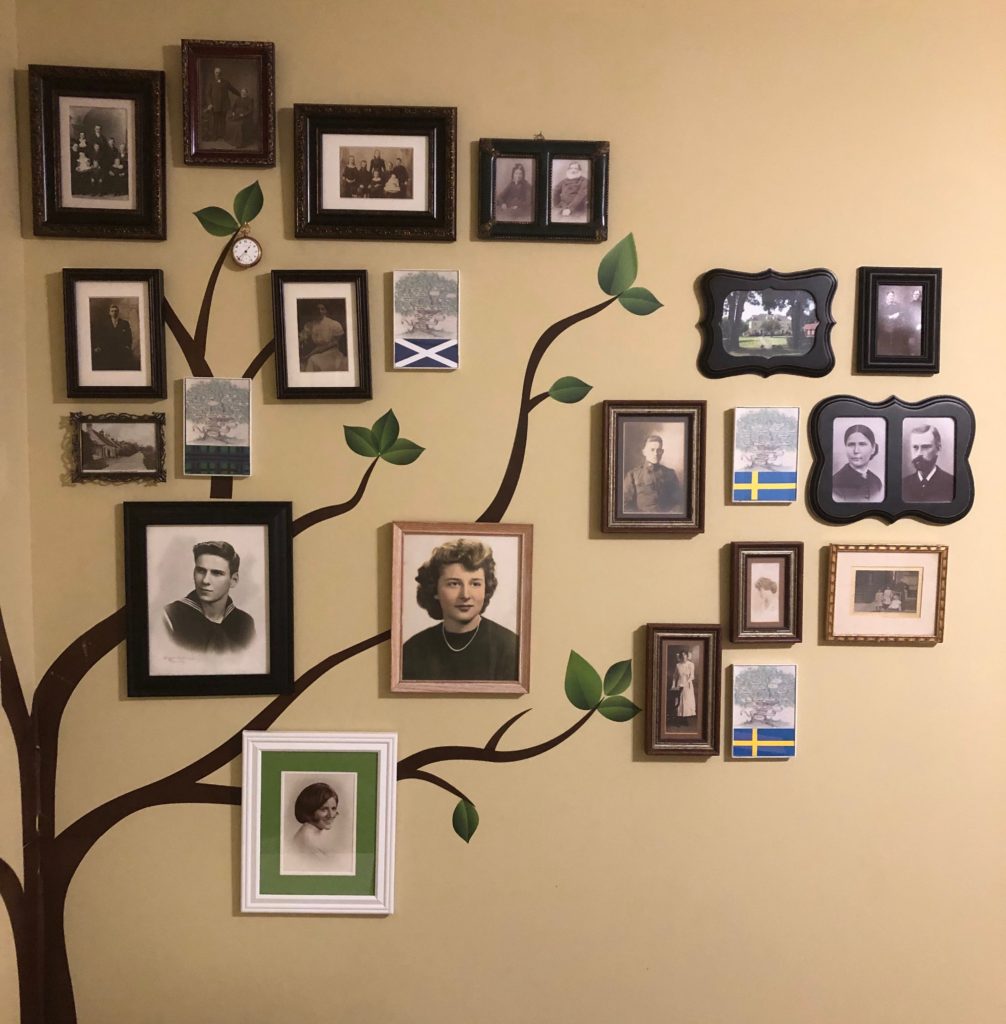 I got off to a great start in November writing John's story. (I offered to let him do it himself, but he declined.) One afternoon I wrote 5,000 words about "John the Shoemaker." Does anyone remember what that refers to? I wrote my story, "Pieced Life" and then started writing about my parents, grandparents and so on. Both my dad and my father-in-law wrote autobiographies when they first retired, but both lived another thirty years and refused to write anything more. So I wrote about "Old Man Marshall," a story I particularly enjoyed because I got to watch my dad become a kind, sweet old man who deeply trusted his Lord in the midst of worry, loss and even depression.
As I climbed the family tree, I knew less and less about the actual people. I had dates and facts, but little real understanding of their personalities and character. When I could, I imagined what their lives much have been like, writing fiction based on what I knew. This was a time-consuming project because I had to go back and review what I'd previously gathered and update my search. By the time I reached the upper branches (or photographed family members) I could only trace the facts of their lives and couldn't even guess at what their lives were really like. I did include small family trees that identified names of far-back ancestors, as well as an old watch, a couple pictures of ancestral homes, etc.
About halfway through the project I decided to put all this writing into a notebook that could stay in the room with the tree. I'm still working on that. Hopefully at least my kids and grandkids will read through it someday and enjoy the family stories. They can throw away all my genealogy notes and files if they want and still have a pretty good record of their ancestors–my own Storyworth.