I really don't mean to complain. I am grateful for the full head of hair that has grown back in the 11 months since chemo ended. It's just that it's a little crazy. I love the feel of the curls but as the day wears on, I start growing wings that don't want to be tamed. Overnight it gets really wild. I like it best just out of the shower with a little "product" applied. (Best case scenario: a hot day spent in and out of the pool rearranging my hair with water every hour or so. Unfortunately, there haven't been too many of those this summer. ) It's at that in-between stage, but I really do want to grow it out and I have to put up with this to do so.
Life at work and home feels a little unruly as well. I'm working three days a week with a few fun days but no real vacation. Work is generally more stressful than usual as we continue to learn our way around the new electronic medical record system.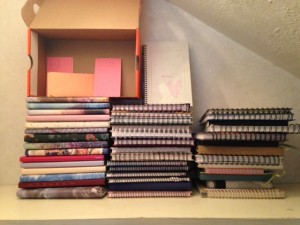 I have been sorting through storage boxes and old journals. This month I consolidated five years' worth of journal cards that I wrote between 1985-1990. The next year I started writing book-journals and have so far found 42 of them, not including the 22 kids' journals. (John-10 books, Laura–6, Lizi–4, Anne–2?) Some days I feel like I'm drowning in words
And then there is yard work. I am enjoying my gardens. One in front, two in back plus a raised bed vegetable garden, and the side garden, which this year has become a flower/color garden after a few very scraggly years. (The idea was to grow dyeing plants, though I'm not sure I'll do much dyeing this year.) We had to paint over the flower mural we had on our garage because the sealer yellowed and peeled, pretty much ruining Amanda's work of art. The grass is still basically a manicured weed field–I'm getting close to giving in and using chemicals on my lawn.
Lizi and her friend Siobhan (and me, technically) signed a lease on an apartment this month. They will be living in a 1-bedroom apartment about a mile from home starting August 1st. (The housewarming party is already scheduled for September 6.) This is an adventure for all of us, one we are anticipating with a little fear and trembling. We think Lizi will do just fine, but there have been (and will be) a few challenges along the way.
I'm looking forward to making Lizi's room at home into a guest room and sanctuary. I'll have my own bathroom and closet for the first time in something like 30 years and room to spread out a little bit more than usual. I want to use the space to continue organizing, packing and downsizing–not accumulating more stuff.
In general, life feels–like my hair–untamed and a little overwhelming. I'm not sure what is causing this. It may be a normal post-treatment phase. Or it could be a result of the goals I've set for myself this summer. Or it may come from the vague sense that I'm waiting for the other "shoe" to drop (in more areas than just the cancer.) Or, maybe I just need a vacation.
Three words from the book of Hebrews encourage me: Rest, grace, and hope. "Since the promise of rest still stands, let us be careful that none of you fall short of it…make every effort to enter that rest…Let us then approach the throne of grace with confidence, so that we might receive mercy and find grace to help us in our time of need…We have this hope as an anchor for the soul firm and secure" (Hebrews 4:1, 11, and 6:19.)