I made these Roman shades for my east-facing, back-room window following a tutorial on Google.
There are three windows in my sunny back room and for most of the time we've lived here, we haven't bothered with shades or curtains. We had a large hedge providing all the privacy we needed. Until Labor Day weekend.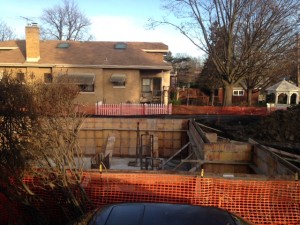 That's when the developer that bought the house next door started ripping out the bushes that were on his property. Since then he has dug a big hole. This is the view from my window, which is why I decided to make the shades.
The house is beginning to go up–which has me worried on several different scores. I believe it is going to be quite large, most likely cutting off most of our morning sun and dwarfing the bungalows on either side. I'm also worried that it will turn our house into a teardown, which is both financially and emotionally disturbing. We're ready to move on, but that doesn't mean we want to see our house ripped down and replaced by a McMansion. Sigh.
I do like the smell of fresh cut wood and I would enjoy watching the building process if they were only building a smaller house that fit the narrow lot. I love our bungalows: they don't look very big on the outside but have a lot of space, a lot of rooms inside. True, they have crappy kitchens and no open floor plan, but there are so many interesting cubbyholes, niches and nooks, so much character.
Elmhurst (in my opinion, though nobody asked me) needs more moderate sized houses for average families. It has been a good place to raise our family and our end-of-the-street home bordered by the high school and the baseball fields has been a godsend in many ways. But it is time to move on.
Today is John's last day of work. We are going to take a retirement trip to Florida and then start packing and patching and whatever we need to do to sell our house. We plan to move out near Laura and Taylor and the grandkids, renting and gradually downsizing until we find our Goldilocks home–not too big, not too little, just right.
God knows the plans he has for us, "plans to prosper you and not harm you, plans to give you a hope and a future" (Jeremiah 29:11.) It is good to trust that He does know all the details ahead of us, even as we feel dwarfed by Taj Mahal and uncertain about what is ahead.