For the past five months a good part of my mental energy has been wrapped up in on old house in downtown Oswego. When Laura first invited us to see the house, I glanced through the Zillow pictures and decided not to go since I didn't think they were going to like it. Was I ever wrong! "The Pillars" became the standard by which they evaluated every other home they visited.

When the Birkey's started to look for a new home, I expected them to choose a slightly larger home with a full basement in an average Aurora neighborhood. It turned out that land was a higher value for them and then "old" started to charm them. After months of waiting and several negotiations, they moved in last Saturday.

This old house was built in 1902 and is situated on two acres of land that borders on the Fox River. Next door is another 3-4 acre undeveloped park that the kids are welcome to roam. It has 36-37 pillars in and around the house, which gives it a presidential look. Early on, when Laura hoped for a January move-in date she suggested we could have an inauguration, #Lauraforpresident. (One day during Laura's senior year of high school she came home and declared that she wanted to become the President. She was frustrated by the three-year road construction process on the main route to her high school. She was sure she could have managed that better.)

The house is spacious–five bedrooms, three-and-a half baths, a library, two porches (one screened in and one all-season, two stairways up to the second floor) kitchen, dining room, family room and living room. It also has a port-cochére, a carriage house, and two butler bells 🙂 It has a full unfinished attic and an unfinished basement. The property is wooded, full of trees and flowers and a large old grape arbor. I'm really enjoying watching the flowering trees and perennials that keep blooming. The yard and neighborhood are perfect for the kids. Papa and Kellen are already designing a tree house.

It also has a history, which we are still learning. In the 1960s it was split into apartments. In the 80s, a family moved in and restored it to a family home with a kitchen that was featured in Better Homes and Gardens. The last family to own the home (2000-ish) remodeled it to preserve its historical heritage. It has "good bones" and a new roof, so we're hoping Laura and Taylor will enjoy fixing it up without major expense.

On closing day, we were invited to join them for dessert to celebrate. I decided to try to make a cake that looked like the house. I bought pillars in the cake section at the craft store and went home to create a facsimile of the house. If any of you are familiar with Lamb Cakes, you may have seen this meme: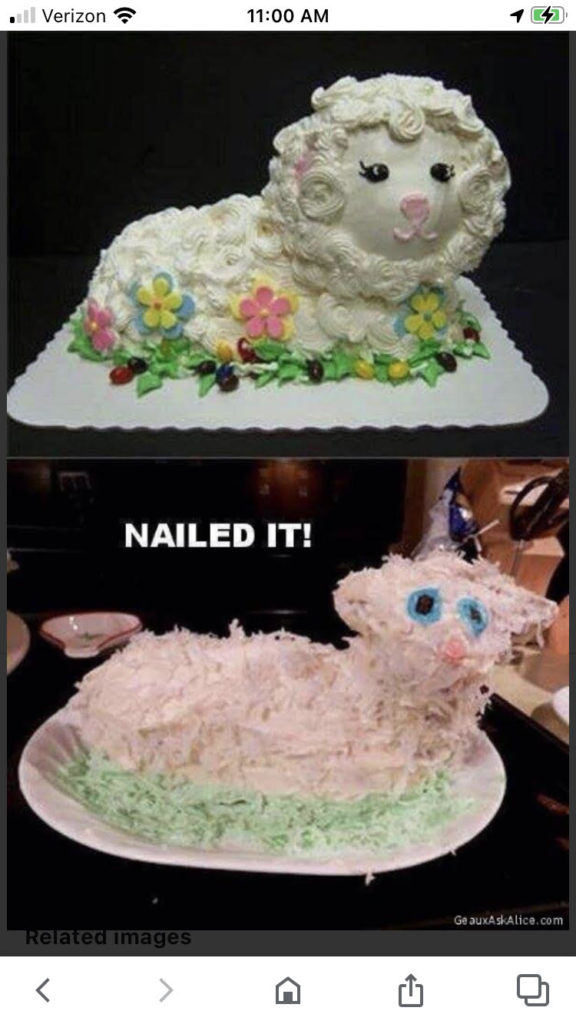 Here's how my cake turned out. Definitely nailed it (Not!) but my grandkids still thought it was awesome.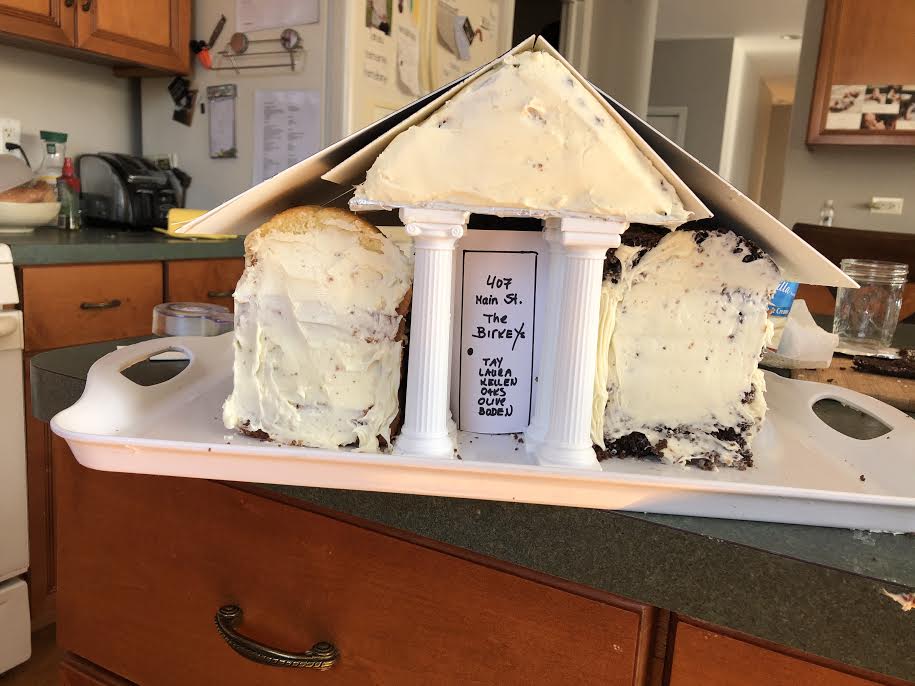 I did a better job at Christmastime. Laura said the only thing she wanted for Christmas was a house. Here is my Lego version of The Pillars.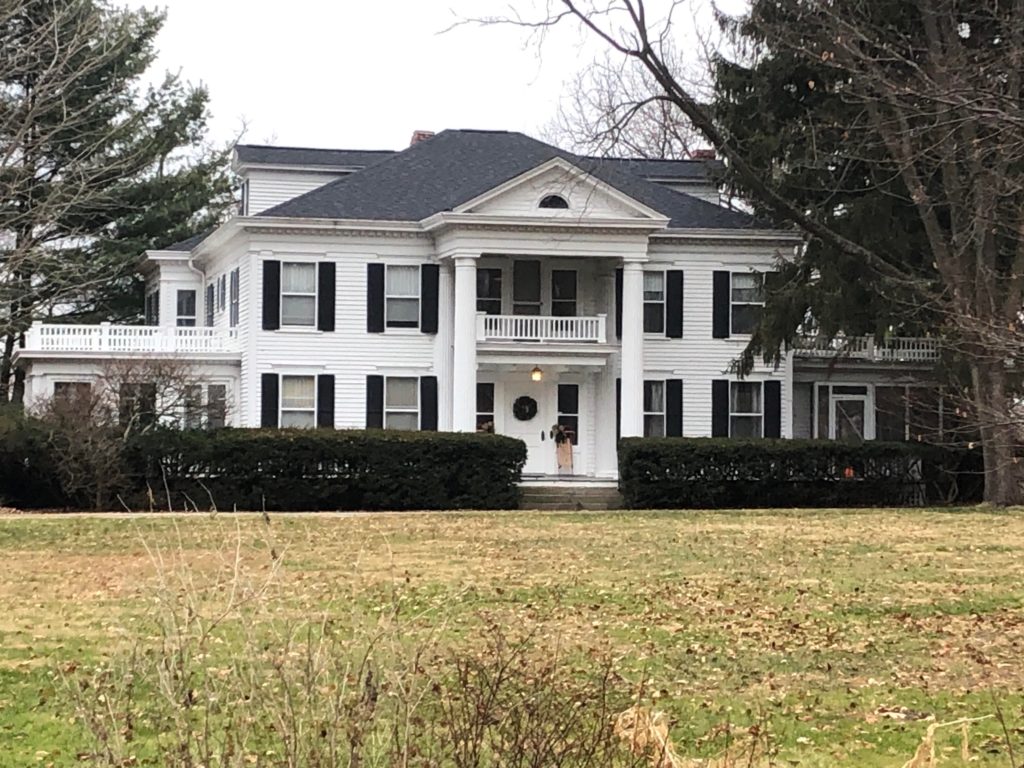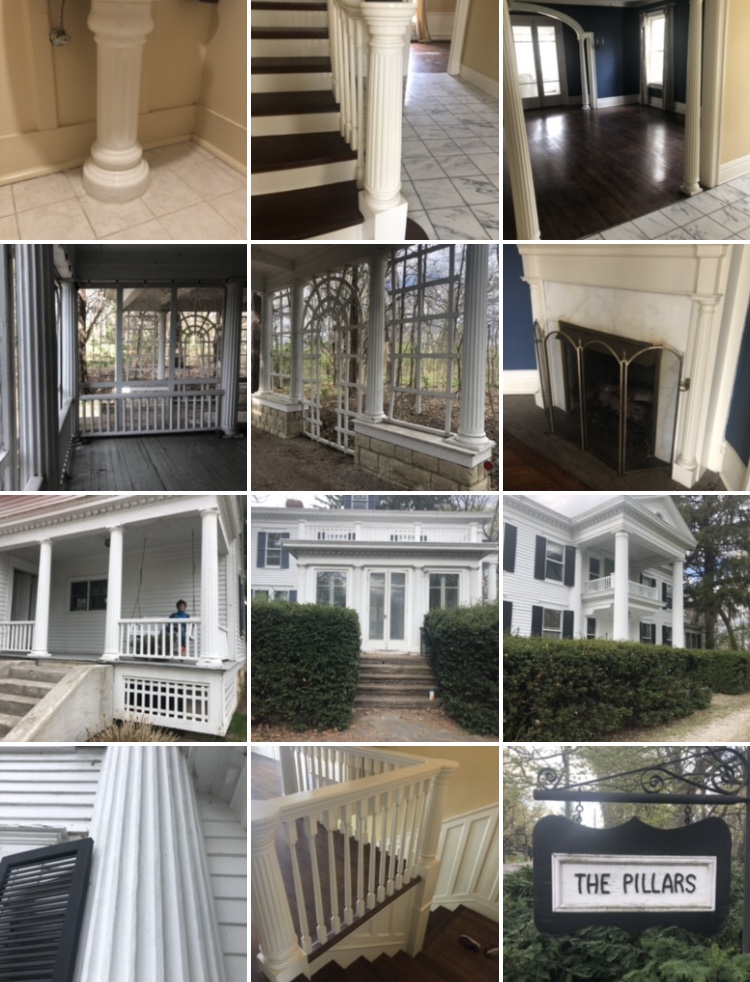 It's also just 15 minutes away from us, either by back roads through farmland or across the mile-long main strip of big box stores where we do most of our shopping. Oswego is a great little and developing town. I've walked miles through its park and frequent its library, coffee shop, and the neighborhood of unique homes, many even older than the Pillars. I'm loving this!