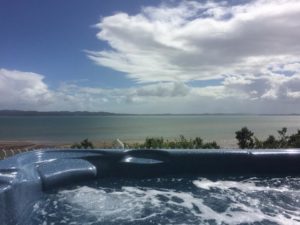 Just a few days ago, I sat in a hot tub overlooking Big Bay. The weather changed every few minutes from blue skies and sunshine to light rain and clouds, and then back again. Every hour or so, a big jet would fly over, heading out from nearby Auckland, beginning a journey to other lands. I would be on a similar plane later that day.
Our bach consisted of two small buildings hanging (quite literally) on the edge of a sandstone cliff. A small white picket fence surrounded the property and kept Obi and Charlee safe from falls. Two steep driveways led to the road (one so steep we couldn't get up it in Annie's van!) The path down to the waterfront switched back and forth to a small grassy landing, lined with rocks and a lot of seaweed. Tides changed our view throughout the day, as did the changing weather. We saw many rainbows as the sun filtered through the light rain.
John and I claimed the smaller building, a 9 x 12 room with a whole wall of windows/doors facing north towards the bay. It had room for a bed, a chair and a couple tables. We moved furniture around to make room for a small mattress for Charlee and shared it with her. So sweet to share our space–and bed–with her our last two mornings.
In New Zealand, a bach is usually a rustic cottage on or near the coast. (On the South Island, they are called cribs.) I'm sure there are lots of really lovely bachs, but probably not in our price range! This one was pretty basic, except for the hot tub.
Today, I looked over the edge of another hot tub at a completely different view: evergreen trees, a grassy winter yard (no snow!) and blue skies. We're back home, getting over jet lag, and feeling a little stunned to find ourselves back in the U.S.A. Even though we got on that plane and flew for 11 + 4 hours, its hard to fathom the distance between here and New Zealand. (Is anyone else still amazed by the fact of overseas air travel? It seems so common and yet, surreal.)
Coming home to a "new" house might have contributed to this odd feeling. Surveying some of the damage to said house probably also had an impact. (John2 didn't do well on his own.) An enthusiastic welcome at the Birkey house and Charlee's new level of response when Skyping will probably help us ease back into our life. As the week progresses and normal activities begin to take over, I'm sure we'll feel better.
That, and a hot tub with a view!