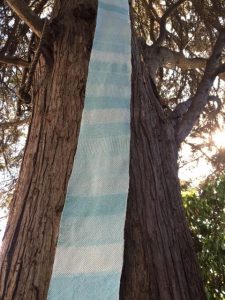 Did you learn Romans 3:23 as a child? "For all have sinned and fallen short of the glory of God." I learned a new way of falling short this week–in weaving.
Actually, I fell short a few weeks ago when I ran out of warp for the sampler I was making. I decided to make a second sampler, striving for perfection.
My warp"fell short" again, but this time I decided to tie on more warp, a process NOT recommended by more experienced weavers on my Facebook Weaving group. I decided to ignore their advice and do it anyways. They were right, of course.
I measured and cut 140 threads, each about 4 feet in length. one by one, I knotted an old and new string together and trimmed the knots. I re-established the tension on my warp and started weaving again.
That seemed to work well until the knots started the process of coming through the heddles and reed. My fell line (where the weaving is actually done) started to wiggle and "smile": the tension became uneven and my weaving was ragged. With every second treadle change, I was having to untangle threads from the back of the loom.
Finally I decided to pull the knots through the heddles and reed without weaving them, leaving a 10 inch gap in my weaving. It was difficult to establish a good tension after that, but I managed to get back on track.
Then, I noticed that I was already running out of warp–again! I decreased the sample size—from 2 to 1 inches–and retied the back beam to get a few more inches out of the loom waste. I managed to eek out the last ten structures to complete my project.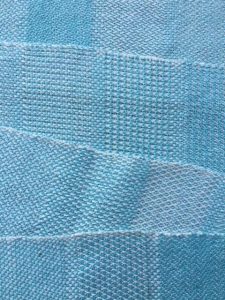 My finished product has an unplanned seam and a shortened sequence but, hey, its a sampler. It looks good and feels soft and wonderful. This picture shows a variety of the patterns in the sampler. I learned new tricks and now know more about mistakes to avoid in the future.
I'm ready to start my next project–sampler towels–which will add more color and practicality to my palette.
I know that I will start with an extra, extra long warp.
P.S. I'm pretty sure there is a spiritual application to this story, but I'll leave it to your imagination and consideration.
Here is my birthday gift: a used warping board bought on Craigslist, with a 9-yard warp for my next project.