One more New Zealand story:
Near the end of our summer visit, James took their lone sheep down the road to another farm "to get knocked up." When I returned in winter, Merida still was living down the road, but one afternoon James and a neighbor brought her home, looking very pregnant. She spent the first hour or so in the paddock bleating loudly, as she missed her mates. Soon afterwards, I noticed James and the neighbor backing the trailer into the yard again with a second, smaller sheep.The bleating stopped.
I was really hoping Merida's lamb would be born before I left. Our "little lamb" Simee was born six days into my visit and we purchased seven chickens and three ducks in the weeks that followed. I thought a lamb would make a perfect ending. It didn't happen.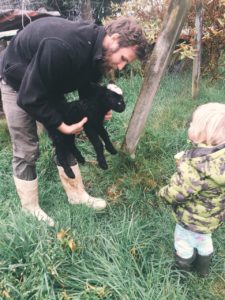 A few days ago, James found not one but two black lambs, a boy and a girl, that had been born during the early morning hours. Anne skyped me when they all went out to meet the lambs, a call I took sitting outdoors at a nice restaurant in Geneva, having dinner with a friend. It was a short, but fun call as I shared in the excitement. I got to watch Charlee hold one of the lambs (briefly).
Simee's baby quilt has a "sheep" theme. Ever since my first trip to New Zealand, when we visited the Bruce family sheep farm, I've been drawn to sheep motifs.
I made Charlee a big girl bed quilt in a safari pattern to go along with the elephants and giraffes that decorated her room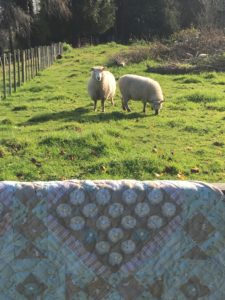 and decided to make the baby quilt in sheep fabric with similar, though muted, colors. Here is her quilt, with Merida and Maudie in the background. (Maudie is also "with child" but probably wont have her lamb until October.
Here are the new lambs:
And some pictures of our other lambs (on Simee's quilt, wearing hats I knitted for the girls and Charlee's baby doll.)
(Sorry not sorry for all the pictures 🙂