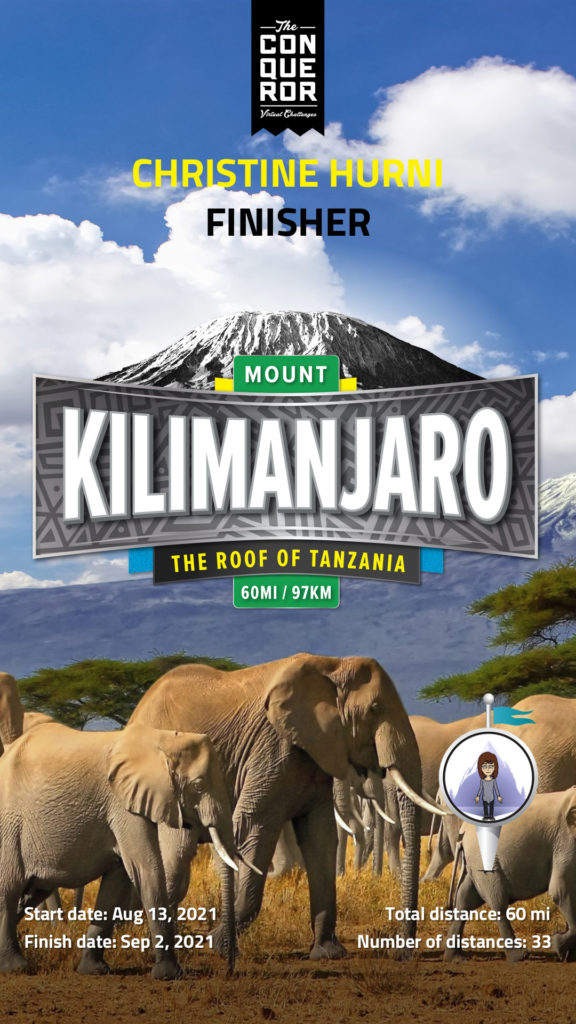 Today I finished the 60.3 miles of the virtual Kilimanjaro challenge–3 days ahead of my goal time of 21 days. I picked up Kellen, Oaks and Olive to walk the last 1.7 miles around a forest preserve and up the sled hill for my "summit." We had smoothies as a reward.

First of all, the Oakhurst Sled Hill is where our two friends (and sometimes John) trained for the real Kilimanjaro trip, which they took in the middle of August. The two/three of them would don hiking boots and walk/run up and down the hill 10-15 times to build up their strength for climbing. (Dan's family paid for Dan and one friend to travel to and climb Kilimanjaro as a special treat.)

What they couldn't train for was altitude. Kilimanjaro is the highest mountain in Africa and the highest free-standing mountain in the world. It rises from its base almost 5,000 feet to its peak at 19,341 feet. It is one of the Seven Summits in the world. It's difficult to predict who will be challenged with altitude sickness; it doesn't really depend on conditioning. One of our two friends was able to summit; the other experienced severe altitude sickness and had to forego summiting.

I walked my 60+ miles on relatively flat terrain. We live on one of the highest points of our relatively flat neighborhood so I liked to joke about "summiting" as I climbed the gentle slope back to our house. John says the grade might be 2%. The sledding hill may be as much as a 40% grade but it's a pretty short path to the top and I only did that once at the very end of my challenge.

It was fun taking this virtual challenge "with" our friends (and virtually with Connie and one of the friends' wife.) My biggest challenge was getting up early to walk before the heat of the day in this very hot summer.

I've already signed up for the next challenge: a 480 mile pilgrimage beginning in France and ending in Spain called the Camino de Santiago. I'm not planning to hurry along this path, but keep up a tortoise-like pace through the fall, winter and even into the spring, if need be.

Since the Camino is an ancient religious pilgrimage, I want to make mine a spiritual pilgrimage of sorts. I've loaded up on a few books and plan to correlate my walk with the BSF study of Matthew and reading of the Gospels, as well as using Peterson's A Long Obedience (Psalm2 120-134) pilgrimage metaphor and maybe some ancient prayers and spiritual disciplines.

I'll keep you posted!