Shopping in New Zealand has been fun!
To begin with the exchange rate works in our favor: An NZ dollar only draws 68 cents from my bank (not including international fees, which I ignore anyways) so everything seems like a bargain to me 🙂
Well, not everything. Costs are generally higher–clothes, shoes, and fabric have off-putting price tags. Food is generally more expensive too. Meals and drinks (coffee, sparkling juices) add up as well. I was also puzzled for awhile by the change I received when using cash. I'd hand over a $20 bill and get back a handful of change. Two-dollar and one-dollar coins confused me, as well as their practice of rounding, noted here:
Almost every town centre in New Zealand looks like this: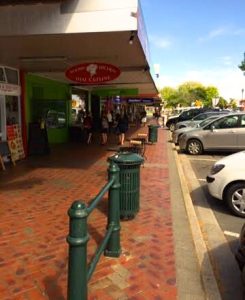 Cambridge town centre is made up of about 5-6 blocks of shops, with a few larger stores on the outskirts: two Home Depot-type stores, a medium-sized home and appliance store, a couple grocery stores and the Warehouse, which is like Target or Wal-mart, though a bit smaller. Town center has no stop lights or stop signs, just two roundabouts, each having 5 streets intersecting.
There are several banks and two phone stores, as well as dress shops, a dollar store, a video store, florists, meat market, and a several nice home decor stores. About a third of the shops are devoted to food; cafes, asian takeaways, fish and chips, a cheese shop and a gourmet food store. There is one baby store, Angel Boutique which is an odd combination of baby clothes and lingerie! There is also a Subway, KFC, Pizza Hut and a new McDonald's on the edge of town.
Most cafes serve breakfast and lunch, closing down around 4:30. In fact, the whole town
centre closes up around that time, except for the video store, takeaways, and the grocery store, which closes by 9 or 10. There are a few restaurants in town, which serve evening meals, but not many.
With the exception of quilt shops, finding sewing supplies has been a bit of a challenge. I've read the word "haberdashery" in books for many years assuming I knew what the word meant. Here it means "small items used in sewing, such as buttons, zips, and thread." It has taken me awhile to figure out this important source for thread and other sewing supplies, hidden away in other shops.
I've done a lot of grocery shopping on this trip. The first few visits were slow as I figured out both the location and names of various items. Tomato sauce is really ketchup (with less sugar)–when I need tomato sauce for tacos, I have to look for tomato puree. Tomato paste also comes in a much more useful container than what we have at home. (By the way, it is "to-mah-to" with the accent on the middle syllable.)
Here is the American section in the International aisle: We don't actually buy anything from here. We mostly find it amusing what they perceive as American food. Twizzlers, Reese's Peanut Butter Cups, and Milk Duds! Coke, A&W and 7Up. Reese's Creamy PB and Goober PB&J. It's actually kind of embarrassing. They really should have a jar of high fructose corn syrup on the shelf.
Here are some of my favorite items (some because of their packaging) in New Zealand
:
Tomato paste and yeast for the packaging. Chilly Philly cream cheese, a combination of cream cheese and sweet chili sauce which makes an easy dip. Cranberry sauce to drizzle on chicken and brie and one of my many favorite sparkling juice drinks. In the background is a new cookbook on Anne's cookbook stand.
There are malls in the bigger cities, of course. We visited one yesterday and got a kick out of the garage ("gair-age") that indicated full or empty parking spaces with red or green lights and kept an accurate count of available parking spaces. I also liked this stair-less escalator. Otherwise, the malls were pretty similar to those in America.
Of course, it's best when accompanied by this little doll 🙂