I just completed two tedious projects. I found that combining them made both a little easier.
When I didn't have enough fabric for a Swedish flag to cover the entire back of my quilt, I decided it would be fun to add an "almanack" or Swedish calendar for the year 1873. I could include birthdays of various ancestors, holidays (holy days) and name days, which are quite popular in Sweden. If you are lucky enough to have both a birth day and a name day, you get to celebrate twice. (I'm thinking that children born now would never manage this with all the unusual names their parents are choosing for them.) I thought I'd seen an almanack that looked something like this: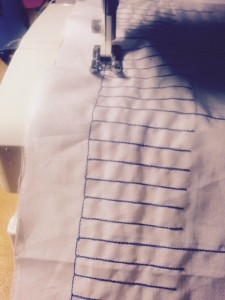 and decided to sew the lines–365 of them–with a longer one each week for Sunday. I counted the stitches between each line, beginning with 7 stitches each time. When I finished one half of the almanack, it was too big so I started over with less stitches, and this time it worked out perfectly.
Meanwhile, I'd also wanted to find records for my maternal great-grandfather. In the Family Record book someone had filled in some of the blanks on a page devoted to him. August W. Linden, born April 7, 1863, Sveden. The only other "place" information was that he was converted or confirmed May 12, 1877 in Västergötland, Jelsta. I couldn't find a "Jelsta" so I decided to search through the entire province of Västergötland–made of three separate counties with somewhat changing borders–looking for an August or August W. that was born on April 7, 1863.
At the beginning, I had great hopes for almost every "click" on my computer. I'd find 1863, scan for the month of April, and scroll down looking for August. April wasn't actually a prolific month for births in much of Sweden, which made my job a little easier. Sometimes there was one or two births, sometimes none. I probably only found a total of ten April 7th birthdates, and none of them were boys named August. I looked through a LOT of records. I kept track of the last county (Skarasborg lan) and searched over 200 parishes. I'm pretty sure I could multiply that number by 3 and have a good guess that I searched through at least 600 books. Of course, clicking through books is a lot easier than it would have been even a few years ago. I didn't have to travel or even spend time loading microfilm or microfiche. The clicking process went something like this: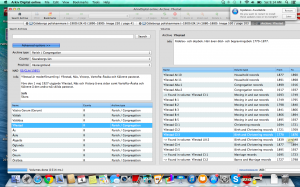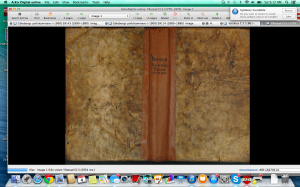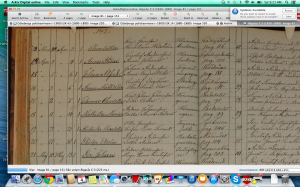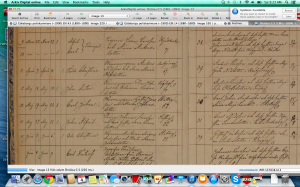 Still, in the end, it was like looking for a needle in a haystack.
And I didn't find the needle.
But I did finish sewing my almanack lines. I eventually found that if I alternated between sewing and clicking, both were more tolerable.
And now I'm going to embroider the names of the months, trying to copy some of the old world style of handwriting. That's one thing I really enjoyed while searching through the haystack. Some of the pastors who recorded the births of had exquisite handwriting.
And I'm not done looking for August W. Linden. I've just got to go at it from a different direction.
P.S. I actually completed the embroidered months before posting this. I loved the hand work and even considered hand quilting the quilt (now that I theoretically have more time.) I thought it would be nice to add some flowers and searched for Swedish floral motifs. I found this, which I was able to do on my friend's embroidery sewing machine. My job was change the thread colors when instructed to do so and to watch for thread breakage. The machine did the rest. I supervised.
Quilters please note: All this is for the back of my quilt. Crazy, eh? (But so much fun.)