Working at a quilt shop (Quiltersquest.com) has been fun, exhausting, and challenging. Ten weeks in, I'm comfortable but not totally confident. My stamina is still not up to par–seven hours on my feet is challenging, so many nights I go home and crawl into bed way before bedtime. It helps that I have a day to recover before going back at it again.

Shopping in a quilt store is a little different than working in one. In the past, I could go in, browse, and usually leave with just what I needed. Cutting fabric (in particular) and shelving it, as well as watching new lines come in at least weekly is a bit more challenging to my stash-habit.

Initially I said I would look at my current stash before going to work to remind me that I didn't need more fabric. Then one day, a customer bought a really cute sheep fabric with perfectly matched coordinating fabrics. I bought a yard of each! (I do get a discount.)
Then "Wild Blossoms" came out of the box and a few days later I realized the background fabric was an amazing ombre pattern of beautiful flowers. I bought 1-1/2 yards for a square backing before the bolt ran out and a charm pack of the rest of the line. Not long after I could see that the "hatch" bolt was running low, so I bought a yard of that too.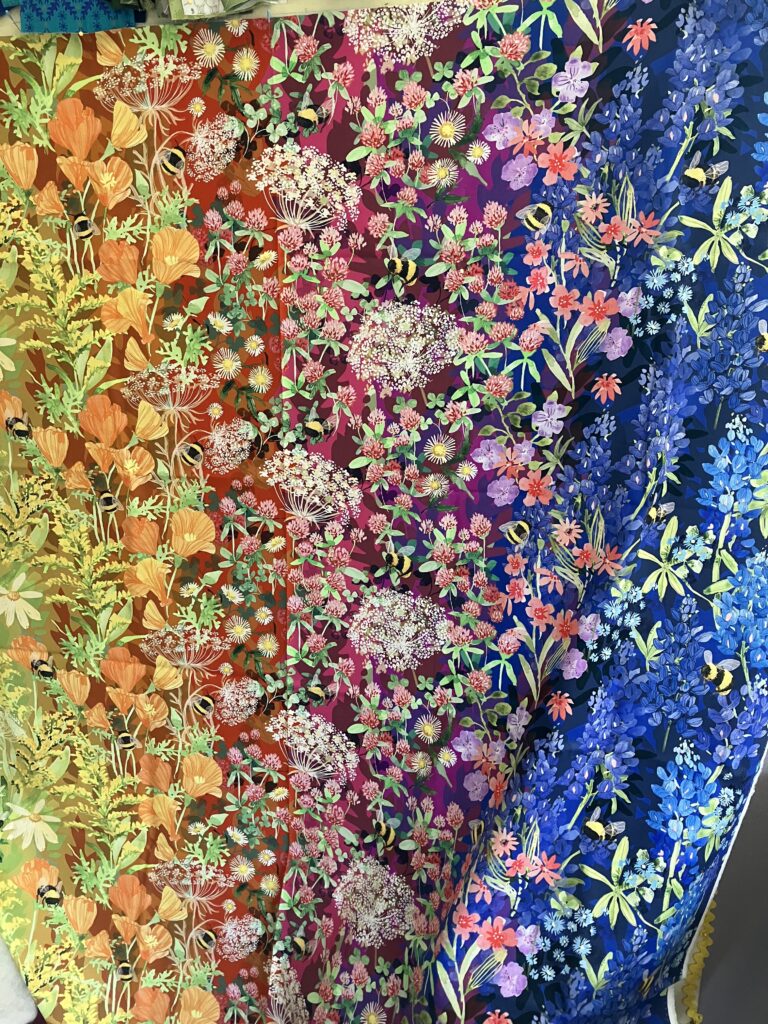 I made book pillows for the kids, mostly using my stash but bought interfacing and zippers, and then 5 half-yards to supplement my stash to fit the kids' interests.
And then, the chickens… I watched those for a few weeks before choosing four of the fabrics to make skirts and purses for the little girls.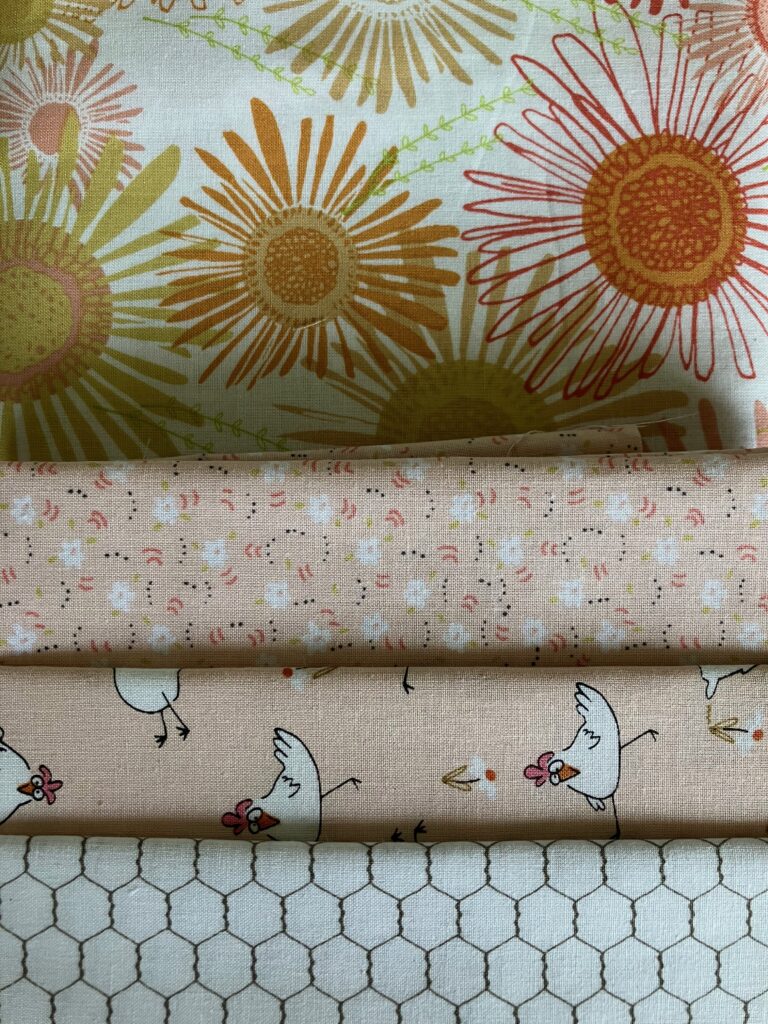 And so on.
Last week I bought a 13 x 13″ acrylic bin for my stash wall just for my QQ fabric. I wanted to see all the fun purchases, keeping them front and center so that I could both enjoy them and also be reminded to use them. As I filled the bin, I also decided that my "rule" would be that I couldn't buy any more than fit into the bin–I would need to use it before buying more once it was filled. (It was a little more than half-filled at that point so it seemed like a reasonable rule.
I bought 1.5 yards of this batik ombre and started looking at colors to make a "Captiva" summer quilt. Instead, I decided I should make the Wild Blossoms quilt while I still had access to some of the prints. The batiks I plan to use for Captiva aren't going to run out and I really need to use what I've already purchased.

So it's (kind of) working 🙂